Religion and Spirituality
by
Benjamin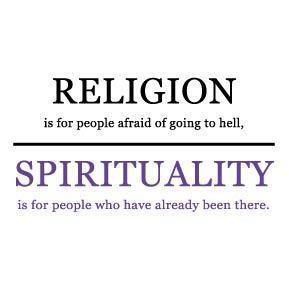 For a while now I've been bumping into small slogans that seem to pitch religion and spirituality against each other. I'm seeing this kinds of stuff all over — in Christian media, general media, and even in other religious/spiritual media.
The general take I get from most of the slogans on the general side is that organized religion is weak, for weak people, and it's constricting of your natural abilities for free thinking and expression of your freedom. The general take I get from the Christian word-battle is that spirituality is a dangerous black hole. Other Christian media speaks of spiritual awareness in more of a positive light – that spirituality and Christian identity have always flown together, one never without the other.
Here's my thought then: how can we merge the two back together again — religion and spirituality? Many seem to be burned out on organized religion (and many for good reasons). Organized religion for many people has been a life-drain void of anything of relationship with God and merely focused on looking right, doing right, etc., (not necessarily living right). I think what
I'm seeing is a genuine desire within our culture to know something deep, have a sence of rootedness, and to explore things of mystery and relationship with God. I'm also hearing a struggle against the churches because for some reason, many churches have put a bad taste in people's mouths, perhaps because they discouraged some genuine sence of walking with the Lord (whether or not such a disoucouragement was intentional). Some people have said that they're church experiences seemed kind of ungenuine, like a social club more than a movement — things like that.
Momentum: what people desire is the depth of what our religion (organized) contains yet they want to return to a felt need of spiritual practices which seems to many to be void from a lot of our congregations. …this is what I'm reading into this anyway.
<><